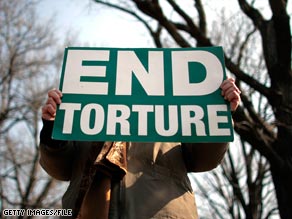 To absolutely nobody's surprise, a
US survey reveals that
:

The more often Americans go to church, the more likely they are to support the torture of suspected terrorists, according to a new survey. More than half of people who attend services at least once a week - 54 percent - said the use of torture against suspected terrorists is "often" or "sometimes" justified.
Only 42 percent of people who "seldom or never" go to services agreed, according to the analysis released Wednesday by the Pew Forum on Religion & Public Life.

White evangelical Protestants were the religious group most likely to say torture is often or sometimes justified -- more than six in 10 supported it.
People unaffiliated with any religious organization were least likely to back it. Only four in 10 of them did.
Don't conservative and/or fundamentalist and/or evangelical christians also believe that corporal punishment is required when raising children? "Spare the rod / spoil the child," is the rote maxim, is it not?
There are a range of methods that they recommend for disciplining children.
'Hot saucing' is one form of 'creative correction'
that is seemingly supported by Focus on the Family.
Michael and Debi Pearl
advocate a form of parenting akin to old-fashioned animal training; they live comfortably on the profits generated by the sale of their books and their speaking engagements.
"To Train Up a Child," [was] written in 1994 by Tennessee pastor Michael Pearl with his wife, Debi, who claim to have raised five "whineless" children. At the book's core is the notion that when parents "train" a child to obey early on, even before he or she is able to make conscious, or conscience-based, decisions, home will be a place of peace and harmony. Here, the term "train" is a reference to Proverbs 22:6: "Train up a child in the way he should go, and when he is old he will not depart from it."

Neither Pearl has advanced training in child development or a related field. "These truths," the tall, white-beaded Michael Pearl, 60, writes in his book, "are not new, deep insights from the professional world of research, [but] rather, the same principles the Amish use to train their stubborn mules, the same technique God uses to train his children."
The connection between acceptance of torture as legitimate technique for securing information and the use of physical punishment to discipline children is the need for control and authoritarianism. But torturers rarely tell their victims that they are inflicting physical pain for "their own good" or because they love them.
More information regarding spanking and the corporal punishment of children can be found at
Religious Tolerance
.