In return for a $600,000. sponsorship Imperial Oil bought the right to control the content and the texts of an exhibition currently running at the Museum of Science and Technology in Ottawa.

Energy: Power to Choose was launched in September 2011.
Radio-Canada obtained e-mails that were exchanged between Susan Swan, Public and Government Affairs Manager at Imperial Oil and the museum staff. Here's a loose translation from the news item:
[...]in the many emails she exchanged with the museum, Ms. Swan complained about the tone used in the messages about the oil industry. She claimed the language was "not balanced".

Ms. Swan had other messages. She provided one that stated the oil sands industry recycles 80% to 95% of the water it uses.




This is not the case, according to some environmentalists.

She also asked that it be stated only 1 tenth of 1% of global greenhouse gas emissions is due to the Canadian oil sands. She also wanted the exhibit to say that the oil sands development will contribute more than $ 1.7 trillion to the Canadian economy over the next 25 years.
Radio-Canada is broadcasting the report from investigative journalist Brigitte Bureau this evening.
By the way, that was quite a bargain. It would have cost Imperial Oil hundreds of thousands of dollars more to buy airtime that might have reached the thousands of school kids who will see this exhibit.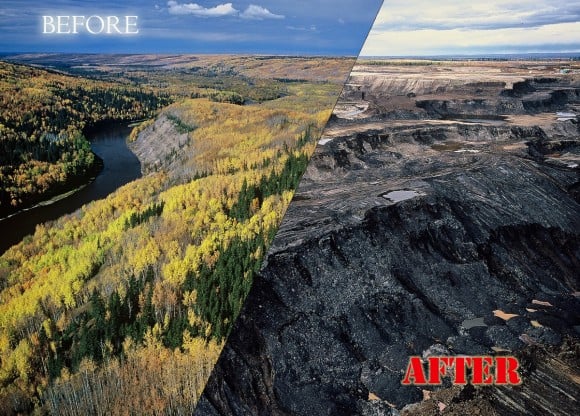 Last week, this appeared in the National Post. Someone was told to "balance" the facts in that piece in support of t
he Contempt Party campaign to discredit environmental organizations who challened the Keystone Pipeline and the Northern Gateway projects in the the Financial Post.