As I stood on Parliament Hill in solidarity with #IdleNoMore activists and protesters I was reminded that the ancestors of those whose revendications I supported, taught my ancestors how to survive the harsh winters of Turtle Island.
Were it not for the extraordinary generosity that the Anishinabek, Cree, Abenaki and perhaps even Iroquois peoples extended to Europeans, settlement after settlement would have succumbed to the challenges and dangers the natural environment posed. Famine, and diseases attributed to malnutrition, killed many colonists.
This is particularly ironic since Attawapiskat Chief Theresa Spence has chosen starvation as the means to express the urgency of a meeting between Harper, the Governor General and First Nations leaders (including Spence). She is putting her very life on the line.
Using self-starvation is one form of immolation that has been tactically deployed throughout history. This strategy, the very embodiment of explicit resistance and defiance expressed through systematic
physical, emotional and intellectual commitment to die, in the hope of reaching a collective goal,

was particularly well exploited by Bobby Sands and other
Irish republican prisoners - convicted paramilitary members of the Army - during the 1981 Irish hunger strike.
Sands started refusing food on 1 March 1981; he died 66 days later. Other prisoners agreed to join the strike at intervals, which helped create publicity as increasing numbers steadily deteriorated over several months. The prisoners' aim was to achieve recognition as prisoners of war as opposed to being treated as criminals, though the Washington Post reported the reason for the strike was to provoke international publicity.
The strategic use of self-imposed starvation as a political strategy is not unanimously acclaimed. While self-immolation by fire (Afghanistan, Tibet, Maghreb) is certainly more spectacular and *newsworthy* to the corporate media as they can report the event and not dwell on the motives behind such action, a hunger strike offers a longer process that allows the individual to reflect upon the gravity of the choice, and to enlist supporters for the goals envisioned. It is nonetheless just as deadly.
Predictably, members of the CONtempt party have reacted with derision to Chief Spence's decision. Though infested with porcine individuals who can barely fit 4 to an elevator, the cpc *base* opinionates that most Indigenous people are "well-fed". And yet, only a few members of First Nations communities are prosperous in that gross "well-fed Con pigs at the trough" way.
Even the flak who cranks out tweets for PMSHithead got into the spirit of Xmas the CPC as it acts in the House of Commons during Question Period.
Harper's ancestry (and the familial karma it suggests) does not leave me hopeful that his 99 sizes-too-small Grinch heart will respond to Chief Spence's ultimatum.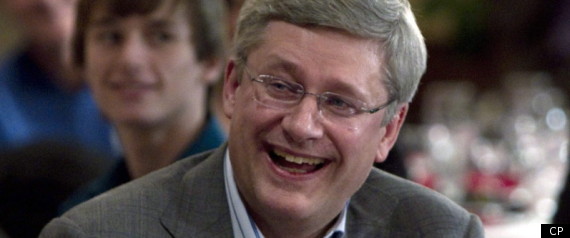 Photograph of Dzawada'enuxw First Nations supporting #IdleNoMore, via @godammitkitty and @

S

herryBGood.
A wealth of documentation is found at the FB page (no registration required) for Indigenous Peoples Issues a

nd

Resources - the leading source for news, information, articles, videos, and more on indigenous peoples from around the world. Lincoln (whose Spielbergian biopic Harper and his entourage raved about) story about the hanging of 38 Dakota Sioux on December 26 1862, details here.)
Photo of Harper, from here.