Peter Van Loan. Vic Toews. Jason Kenney. Dean Del Mastro. Andrew Scheer*.

Is there some unwritten criteria that CON _movers and shakers_ in Harper's CPC must resemble the voracious four-legged residents of Willy Pickton's farm, stuffed into expensive suits?

The smug mug above is of Arthur Hamilton, the CONtempt Party's consigliere on these cases: the Elena Guergis hatchet job, the CPC's varied criminal and/or illegal manipulations during the 2006 elections, and now this.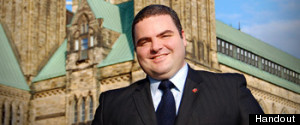 Oh look, here's another one, eager for the opportunity to stick his snout into the CPC feeding trough.
*

anyone who believes that speaker Scheer is no longer a member of Harper's inner circle of CPC koolaid drinkers hasn't been paying attention to his decisions in the House of Commons.