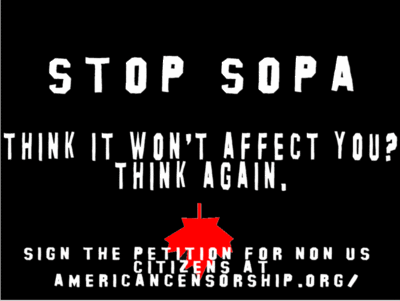 Thanks to a creative revolution who provided the above badge, lays out what the issues are, and suggests actions to take.
To honour the strike and internet black-out action on Bill C-11 and SOPA, I'm staying offline all day, January 18.
Google, which has more clout than Wikipedia, has taken the following position:
Google on Tuesday announced it would make an unprecedented change to its homepage for American users on Wednesday, January 18, in protest of the Stop Online Piracy Act (SOPA) and the PROTECT IP Act (PIPA), the two pieces of anti-online piracy legislation being considered by Congress that have been criticized by Web companies and tech writers for their potential to break the Internet.

"Like many businesses, entrepreneurs and web users, we oppose these bills because there are smart, targeted ways to shut down foreign rogue websites without asking American companies to censor the Internet," a Google spokesperson told TPM in an emailed statement. "So tomorrow we will be joining many other tech companies to highlight this issue on our US home page." [....]

Google previously was the only tech company invited to testify in a hearing on SOPA in November, during which time Google policy lawyer Katherine Oyama mounted a formidable attack on SOPA and vigorously defended the company's position against the legislation from the probing questions of lawmakers.
Update: fern hill informs me that she's staying off-line tomorrow too.