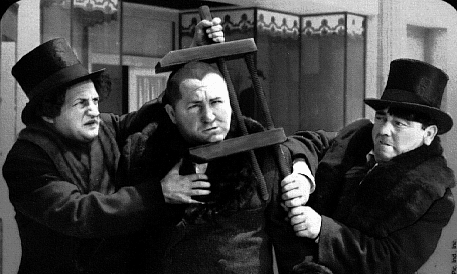 Tony Clement, a minister of the cabinet (and perpetual bridesmaid Con leadership candidate hopeful) grovels to keep his job.

Maxime Bernier, an ex-minister (and self-projected putative dauphin) brown-noses to get his old job back.

These two, and all ReformaTory members of Parliament, are in thrall to Emperor Steve the First. When first informed that data or facts could not be provided, tweaked or procured to support his policies, Stevie Spiteful declared that henceforth there would no longer be a long-form data collection process at Statistics Canada.
And, as our savvy commenter Niles pointed out here, there is no originality or content in the Con "brain trust". Harper is cannibalizing the achievements of previous PMs and repurposing their shine to disguise the cavernous depths of his ideological depravity.
"We can create a country built on solid Conservative values, not on expensive Liberal promises, a country the Liberals wouldn't even recognize, the kind of country I want to lead."
Given his track record on spending Canadians' money, Harper isn't leading the country, he is eating it.