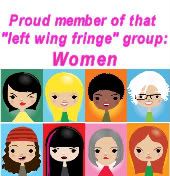 This is ours. Not yours. OURS.
From the PROUD TO BE A MEMBER OF THAT 'LEFT-WING FRINGE' GROUP CALLED WOMEN
Facebook page
:
The federal Liberal Party is attempting to hijack this group for its own political purposes. We want to emphasize that this group is NON-PARTISAN.

http://www.liberal.ca/en/blog/16322_women-were-not-a-left-wing-fringe-group

We have our own blog buttons, available here -- which work for both women and men.

http://www.acreativerevolution.ca/node/2072

Appropriating our message for partisan purposes will kill our project.

You have high-priced political consultants. Let them come up with their own message.

(A message from Antonia: I did not create this group to aid any political party. I created it because women's rights, minority rights, gay rights, language rights, and disability rights have all been hampered by Harper's attack on the Court Challenges program. This group does not endorse any party or politician. Back off.)
Liberal Party rip-off blogpost
.
Michael Fucking Ignatieff's Facebook page
.
Link to a letter to Ignatieff from Elizabeth Pickett
.
Contact info to write a pissed-off letter of your own:
Liberal Party: info@liberal.ca
M. Ignatieff: IgnatM@parl.gc.ca